This intensive course seven day course teaches all the skills in making a pole lathe turned or free form dining chair (ie without arms or rockers). After an introduction to green woodworking you can then choose to concentrate on making a Welsh stick or Windsor dining chair, or a small bench with solid seat. The first three days will introduce the skills of cleaving, shaving with draw knives and pole lathe turning (or shaving free form) chair legs and spindles and stacking them away in the woodland kiln for at least 48 hours of drying. Meanwhile the woodland steamer will be lit and any curved components steam bent around simple jigs and devices. Day four focuses on shaping and adzing your chair seat before an 'afternoon off' for recuperation for tutors and students, or some 'catching up' time in the workshop. Days five to seven are spent finishing your seat and learning the skills of drilling at complex angles while assembling your chair before a final cabinet scraping and oiling on the last day.

There is a materials charge for seating of £10 to £40.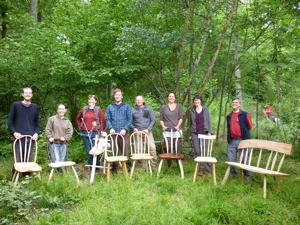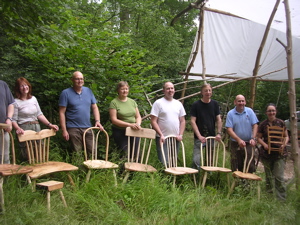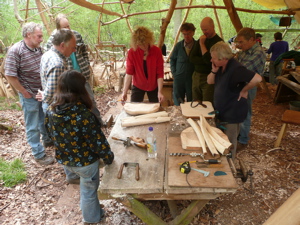 A range of chair styles made on 7 day courses

9 Day Chair Making Workshop (includes Garden & Sculptural Seating)

This nine day course is the much recommended 'de luxe' version of the above 7 day course and is suitable for beginners as well as experienced green woodworkers, chair makers and designers who wants to extend their skills.
Tuition again starts with an introduction to green woodwork and then covers all aspects of chair making in some depth, including the design, construction and finishing of Windsor and Welsh Stick chairs. The designing and making of sculptural furniture, including garden seating, is covered while more experienced makers have the chance to design and develop their own project or tackle arm chairs and rocking chairs. The course allows time for skills to develop, designs to evolve, and more complex projects to be tackled. An afternoon off' for sightseeing or 'play' in the workshop is time tabled for day six.

There is a materials charge for seating olf £10 to £60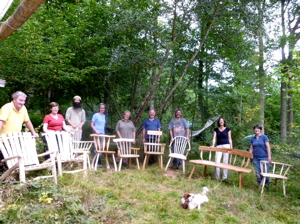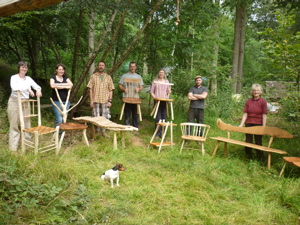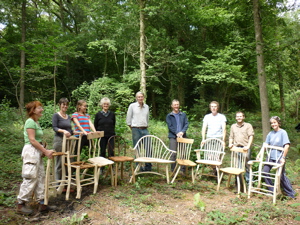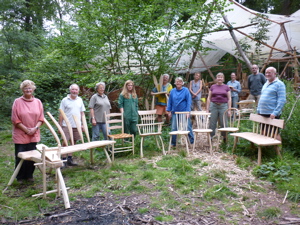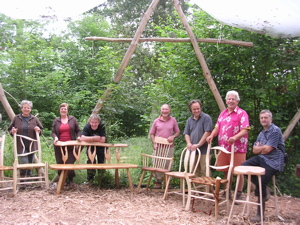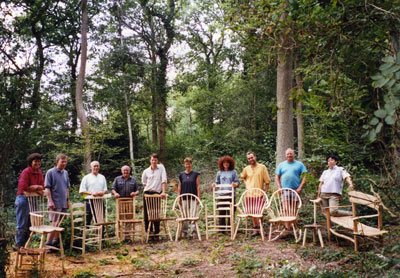 A range of chair styles made on 9 day courses
For examples of chair styles and terms used <<click here>>
For pictures of steam bending <<click here>>
For examples of seating styles and materials <<click here>>