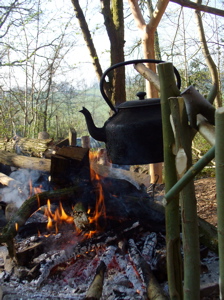 A cooking fire and permanent kettle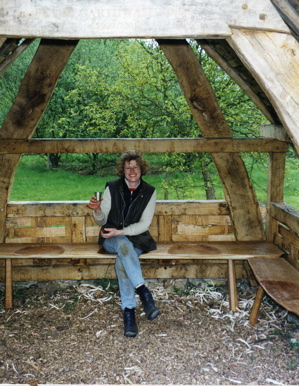 Celebrating completion of adzed seating at Castle Howard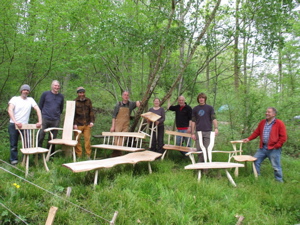 7 day Green Woodwork and Chair Making May 2013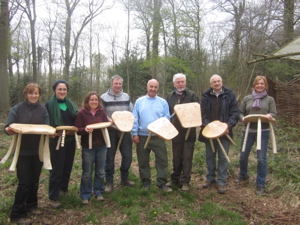 Introductory course April 2013
9 day chair making workshop June 2013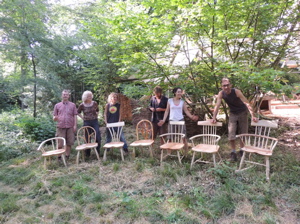 The back-up behind the July 2013 course! From l to r:
Matt (workshop assistant), Gudrun (tutor), Ro (kitchen), Pete and Tamsin (volunteer assistants), Hamish (kitchen)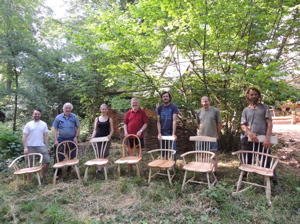 9 day chair making workshop July 2013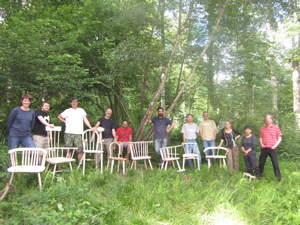 Designers Week 2012

Following the success of the Bodging Milano projects in 2010 and 2012, ten of the Clissett Wood visiting designers have shown their work in a widely acclaimed exhibition at the Harley Gallery at Welbeck.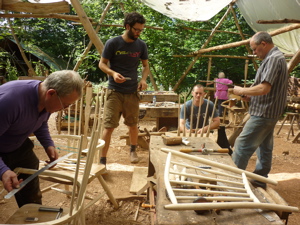 Assembly on a 9 day course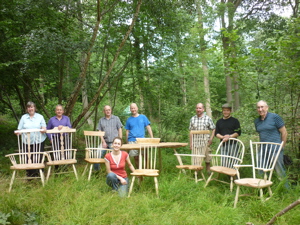 The chairs all assembled!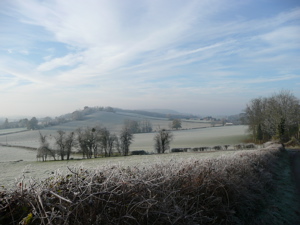 The view south from Clissett Wood on a frosty December morning
Course dates for 2014 are on the calendar page
Special Offer! Book 2 or more places on the Green Woodwork Introduction Courses and receive a 25% discount on your course fees.
Enjoy a holiday in a beautiful part of Herefordshire, learning the skills of working unseasoned timber with handtools to create something unique for your own home or garden.
New web site dedicated to Philip Clissett, his life, work and chair making near Clissett Wood.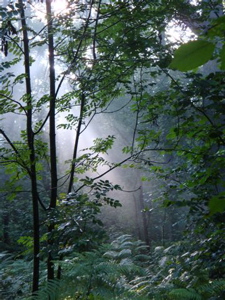 I offer two to nine day courses in Green Woodwork and Chairmaking for novices, amateurs and experienced craftspeople.
I teach the whole range of greenwood crafts; from pole lathe turned windsor chairs, ladder back chairs with varied seating, contemporary and free form sculptural pieces to an ever expanding range of other projects.
A gift voucher for a course can make a very welcome Christmas, Birthday or Retirement present. Gift vouchers can be arranged for any amount. Email for more information.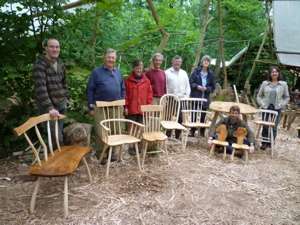 9 day chair making workshop August 2013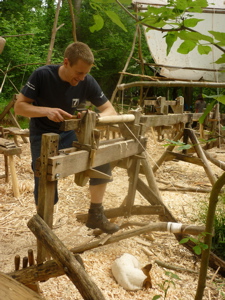 Pole lathing

In addition I make a unique range of sculptural free-form furniture
to commission.
I will be showing a range of work at the Hereford Contemporary Craft Fair 15 - 17 November 2014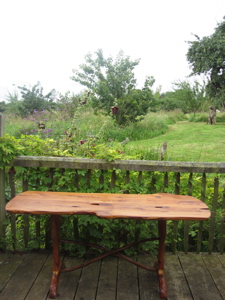 Table in yew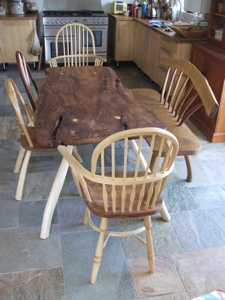 This can become addictive!